Personalised
Online Tutoring
English | Mathematics | Physics
Revolutionising the way students are tutored across Australia with our online tutoring programs unique to every student
Enrol Now to Start Your Personalised Learning Journey
No lock-in contracts or hidden fees
All learning materials provided
Easy-to-use online tutoring platform
Experienced & highly skilled tutors
Personalised
Online Tutoring
English | Mathematics | Physics
Revolutionising the way students are tutored across Australia with our online tutoring programs unique to every student
Enrol Now to Start Your Personalised Learning Journey
No lock-in contracts or hidden fees
All learning materials provided
Easy-to-use online tutoring platform
Experienced & highly skilled tutors
We believe in direct and focused online tutoring.
Improve Confidence & Understanding
Our specifically designed tutoring sessions and coursework will enhance students' grades, boost confidence and self-esteem and, most importantly, guide them on a path to success.
Professional & Experienced Tutors
Our dedicated tutors are subject matter experts, high ATAR achievers and skilled educators with valid Working With Children Checks (WWCCs). Each tutor has a proven track record of student success.
1-on-1 Online Tutoring Sessions
Learn from the comfort of your own home! We deliver exceptionally high quality online tutoring sessions via a secure video conferencing platform and provide all electronic learning materials.
Online Tutoring for Every Student
Each tutoring session is specially designed and curated by one of our highly skilled educators to deliver the best possible learning experience.
We understand that every student has a unique learning stye. Our sessions are structured to ensure students receive personalised English or Mathematics help.
Our English and Mathematics tutoring resources are directly mapped to the updated Australian curriculum.
We're Experts in
Special Learning Needs Tutoring
Our awesome tutors have experience in providing a safe and nurturing environment for students with learning difficulties or special learning needs, helping them increase their overall confidence and keep up at school. Our personalised special learning needs tutoring programs are aligned with the updated Australian curriculum, including state variations, and are specially crafted to ensure each student learns at their own pace and skill level.
During each tutoring session, you'll learn the same content taught at school, but in a highly personalised format. Our tutoring sessions are delivered online via a secure video conferencing software, removing the inconvenience of having to drive or accommodate an in-house tutor.
No Nonsense Tutoring is more than just your average online tutoring service. We know there are many online tutoring services available, but only we specialise in providing a personalised tutoring experience and will tailor each and every session to suit your individual learning style and needs. Unlike other tutoring services, we endeavour to ensure that no two tutoring session are the same. Our online tutoring sessions are designed to help you develop effective study skills, become an independent learner and achieve your absolute best!
We Specialise in Homeschool Tutoring
Looking for further homeschool support?
Our tutors are experienced in helping students thrive and become independent learners during homeschooling.
We provide valuable study skills and tips to boost student performance, set achievable goals and maximise home study.
Our homeschool tutors are experienced home school educators, who have previously homeschooled both primary and secondary students. They have a vast knowledge base of the homeschooling curriculum and are familiar with the necessary requirements.
Why choose online tutoring?
Online tutoring has all the benefits of face-to-face tutoring but it so much more convenient! From the ability to learn from the comfort of your own home to the flexibility of scheduling the sessions at a time and day that suits your lifestyle, getting expert help has never been easier. Using a secure online platform, we bring the learning to you!
Frequently Asked Questions
How do your sessions work?
Our sessions are conducted via a secure online platform where both the tutor and student communicate and see each other in real-time. No Nonsense Tutoring provides all learning materials and there is no complicated downloads or software to install. All that is needed is a laptop, computer or tablet that supports audio and webcam functionality and an internet connection.
How is work completed and checked by the tutor?
During each session, students answer questions by writing or typing on an interactive whiteboard after which feedback is given by the tutor. Real-time comments and suggestions made by the tutor help solidify concepts and troubleshoot misunderstandings before the student moves on to the next topic.
I'm hesitant to try online tutoring. What if my child doesn't like it?
We understand some students may be hesitant to try online tutoring. That's why all our sessions come with a satisfaction guarantee. There are no lock-in contracts and booked sessions can be easily rescheduled or refunded.
How much does each session cost?
The cost of each session is dependent on how you decide to book sessions and the frequency of tutoring sessions per week. Sessions can be booked on a weekly basis 'pay-as-you-go' or multiple sessions can be booked as a bundle deal. Session scheduling with No Nonsense Tutoring is very flexible in the way that the frequency of sessions can be increased, for example in the lead-up to exams, and can also be reduced to fortnightly sessions if required. Get in touch today to discuss session pricing and bundle deals.
How many sessions should I schedule per week?
There is no definite answer here, as each student has a specific and unique learning style. Generally, we recommend a minimum of 1 session per week and at least 2 sessions a week if the student needs to catch up to meet the requirements of their current year level.
Can I speak to someone to discuss the number of sessions my child will need each week?
Yes. You can contact one of our expert learning advisors to discuss your child's individual needs. Simply complete our preliminary enrolment form here and a learning advisor will get in touch.
When can I schedule tutoring sessions?
Sessions can be scheduled anytime between 7am and 9pm, Monday to Sunday.
How will I know my child is assigned the best tutor?
All of our tutors have been thoroughly vetted for their experience, qualifications and tutoring style so you can rest assured you child will be assigned the best tutor possible.
Will my child have the same tutor each time?
Yes. We will endeavour to ensure your child has the same tutor for each of their tutoring sessions. However, if a session is rescheduled with late notice, there is a possibility that your child will be assigned a different tutor.
Will I get regular feedback from the tutor?
Yes. Feedback from your child's tutor will be in the form of short reports via email once a month. You will also receive instructions from the tutor to contact them for a phone appointment to discuss your child's progress in more detail at least once a month.
Is your tutoring content aligned with what my child is studying at school and the syllabus?
Yes. All our learning materials are directly mapped to the updated Australian curriculum, including state variations. We can confidently say our tutoring programs will cover everything your child is learning at school and more!
Will I get information regarding my tutor before the first session?
Unfortunately, due to privacy and security reasons, we are unable to release the personal details of any of our tutors. However, you will have the opportunity for a meet-and-greet with your tutor during the opening 5-10 minutes of your child's first session.
What if my child doesn't like online tutoring? Can I get a refund?
If your child feels online tutoring is not for them, that is completely understandable. Please note, previously completed sessions are not refundable. However, the cost of any remaining sessions will be immediately refunded upon notice, less any transaction fees incurred.
Yes. All our sessions are recorded for quality assurance and security reasons. However, session recordings are not made available for download by the student and/or parent/guardian.
Do I need to pay in advance of each session?
Yes. We require payment at least 3 days prior to the scheduled session. Upon successful payment, you will receive a link with instructions detailing how to connect to your sessions.
Can you help my child with exam preparation?
Of course. Our tutoring programs cover NAPLAN preparation, ATAR exam tutoring, selective school preparation as well as revision content to help your child best prepare for their exam.
Online tutoring advice from our blog...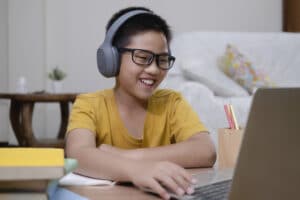 Blog
How to tell if your child needs support and what you can do A common question asked by parents is: Does my child need an
Read More »
With remote learning becoming more and more commonplace across Australia, you may be itching to discover whether online tutoring is better than face-to-face tutoring. For
Read More »
Discover how our tutoring methods can help you!
Personalised Online English, Mathematics & Physics Sessions Foundation – Year 12
My son who is 9 years old had a wonderful experience with Non sense Tutoring. Anna was very patient with my son, and she was very clear and engaging with her activities. Mariano really enjoyed her tutoring time with Anna. She is very professional, at the end of the sessions she explained in detail what are my sons areas of improvement and which are the ones he is doing ok.
Great service, easy to set up and very responsive to what we needed for the kids. Both our kids enjoy the sessions and find the online delivery works for them.
A fantastic organisation, with incredible staff! They have a genuine passion for fostering confidence and academic growth, while being flexible and supportive to our daughter's needs. Since working with Anna, our daughter has developed a newfound confidence in her approach to her education and is motivated to learn. We would highly recommend working with Anna and her team.
Our experience with Anna at No Nonsense Tutoring has been wonderful. She is such a caring, knowledgable tutor who has built a great rapport with my son. Highly recommend!
My girls love being tutored by Anna and Kirallie. Anna and Kirallie have really boosted my girls confidence in maths by the way they teach and make it easy to understand. Thanks Anna and Kirallie
My daughter has been receiving tutoring for year 11 maths and physics. Her confidence in both subjects has increased significantly and most importantly she looks forward to her sessions every week. I'm delighted with the engaging approach taken to online learning and would highly recommend!